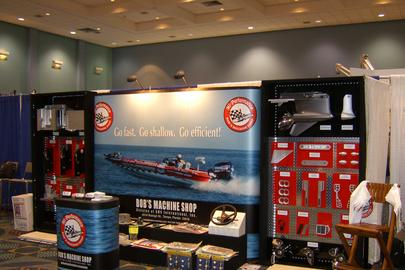 FOR IMMEDIATE RELEASE
FLW Veteran Bill McDonald Partners with Bob's Machine Shop
TAMPA, Fla.— FLW veteran Bill McDonald has partnered with Bob's Machine Shop to get an edge on the upcoming Walmart FLW Tour season. McDonald will take to FLW's premier tournament trail this year with a custom, carbon fiber-coated Bob's Machine Shop jack plate onboard his Ranger.
"It's going to allow me to get up in shallower water and get on plane a whole lot quicker this year," says McDonald, a 20-year tournament fisherman and 18-time FLW Top 10 finisher. "Our first tournament is at Lake Guntersville, and the entire circuit this year has a lot of shallow water. Being primarily a shallow water guy, I'm going to have an advantage at every event."
For Bob's, the addition of Pelini bolsters an expanding pro staff presence that's making renewed inroads in the bass fishing world after growing their name as one of the top brands in racing.
"Bob's Machine is growing our bass fishing presence," adds Bob's Machine Shop V.P. of Sales Steve Pelini. "Bill's reputation for supporting quality products and friendly outreach throughout FLW make him a great asset to our team!"
"We are extremely happy to add Bill McDonald to our pro staff lineup," adds Pelini. "Bill will be running a 6" carbon fiber-coated Action Series Jack Plate, holding his 250HP Evinrude G2. He's also adding our new Deck Plugs in carbon fiber and the new Bob's 'Big D' trolling motor handle."
The Action Series Jack Plate allows anglers to adjust trim under power—even at full speed—enabling quick adjustments to boat dynamics for varying water levels or water conditions. McDonald says he's excited both about the performance of the new products, but also the ability to customize the look of each to match his carbon fiber pattern boat wrap.
He also notes the partnership with Bob's Machine is the perfect compliment to his existing work with Lucas Oil. "Everything we test, we test through the racing world," McDonald says. "You can guarantee that if it works there, it's going to work for me. Bob's Machine Shop has an excellent reputation in racing. They make a quality product, right here in the U.S.A. It's an outstanding jack plate to say the least."
McDonald returns to Bob's Machine after starting his pro fishing career behind the helm of a Ranger fitted with the Tampa-based company's jack plate in the early 1990s. "My first plate was with them," he says. "And I'm really excited to be back with them."
Bill MacDonald is a 9-year FLW veteran who has competed at virtually every level of professional bass fishing, look for him on the Walmart FLW Tour this season. Bob's Machine Shop has been building custom jack plates in Tampa, Florida since 1978. For more information, visit BobsMachine.com.
###
Media Contact:
Steve Pelini
PH: 813-247-7040